Recently, I took a trip back to Los Angeles to visit my parents and research my work in progress. I got reflective about what the Valley (San Fernando–and yes, it is the inspiration for the phrase "Valley Girl") used to be like and what it's like today. I think when I miss "home," it's the L.A. of my youth that I wish was still there. I'm sure it's like this for many people. Funny, how when you're growing up, you take so much for granted and today you wish you had it all back the way it was.
So on this trip, I took some photos of landmarks that are still there–and near-and-dear to me.
For those of you who would think a river would be banked with bushes and trees, the iconic L.A. River flows throughout the city. This used to be Los Angeles' source for drinking water until the aqueduct. I remember it being a discarding spot for stolen shopping carts and kids on Sting Ray bikes who managed to get down there and ride the slopes.
We moved here in 1964 and my dad put up that retaining wall, built the gate, and put in the grape-stake fence. At the time, the front of the house had a tree in front of the left window (my sister's bedroom) and I'd climb the tree to sit on the rock roof (no longer there.) We didn't have central air, just a swamp cooler. Our dog, Curley, was thrown into the pool during the 1971 Sylmar quake. I remember thinking this house was a palace to live in. I walked everywhere. To elementary school and junior high.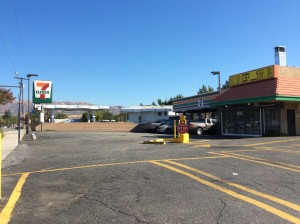 When I entered junior high, I cut through the neighborhood and came out at this corner where the 7/11 still sits today. Man, I  bought a lot of candy there. The big sweet-tarts the size of jawbreaker that you had to grind down with your bottom teeth. Pixie sticks, Charms, Lemonheads. I liked the fruit Slurpees the best. Never fond of cola flavored.
My mother enrolled my sister and I at Rozanne/Zimmerman's dance studio. As an uncoordinated child (and adult), taking ballet was torture. The building on the right with the peak used to be Coronet drugs. I have fond memories of walking up there with my grandmother and picking out a needlework project to do with her. Mostly embroidery on pillowcases.
There's fencing around the school now. Back in my day it was an open campus. The buildings are marked with alphabetical letters. J Building was where the smokers stood and puffed between classes. I don't recall anyone getting busted. Once in a while, you'd catch a whiff of something sweet lingering in the air from the potheads. Speaking of which, connected to CHS is Stoney Point "continuation" school. It was where the trouble-makers went. It's still there today. We had nicknamed that high school Stoner's Point. We always ate lunch outside–year round. And there were apple vending machines. No pop on campus that I recall, nor candy machines. The LAUSD made the best coffeecake. If I can find the recipe, I'll post it in a future blog. We would go to school in the morning and you could buy fresh out of the oven coffeecake. I didn't get hot lunch very often. That was a treat. My favorite sandwich was raisin bread, butter and American cheese. What was I thinking?! It was at CHS that I really developed an appreciation for writing. My creative writing teacher, Mrs. Farquar taught us how to capture ideas and put them on paper. I still remember her putting on an Allman Brothers recording and telling us, just close your eyes and let inspiration take you. I still have that notebook around here somewhere.
My first job. I hated the uniform. I worked the drive through. The fry cook always had a layer of grease coating his acne. Poor guy. I hated cleaning up the shake machine. Back in the day, we had to service the tables and part of the clean up duty was to wash the metal ashtrays on each table.
I lived on the second floor, toward the back. My first apartment–and I shared with a girl named Debbie. I've often wondered what happened to her. The apartment complex looks pretty much the same as it did in the '70s. I moved out from my parents' house at age nineteen, not knowing how to cook much of anything and calling my mom to ask her how to bake a chicken. Today I'm an excellent cook and I credit my mom's love for cooking. Now I visit L.A. and I cook meals for her and my dad and put them in their freezer.
So that's a bit of history about me. Where did you grow up? Do you still live there? If not, do you ever go back and visit? Share your stories!