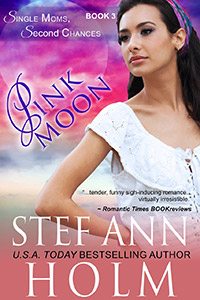 Series:
Single Moms, Second Chances
| Book 3
Single mom, Lauren Jessup, quickly realizes the waitressing job she took in the California coastal town of Bella Luna will never pay the bills. But she's a good listener, and regular customer Nick DiMartino needs a sympathetic ear.
Nick DiMartino is willing to do anything to gain permanent custody of his child–even leave Bella Luna and the home he and his young son love.
But Lauren knows the pain of never being allowed to stay in one place long enough to grow roots and vows to stay and help Nick and his son…at least until the Pink Moon.
"Nobody writes families like Stef Ann Holm."
~New York Times bestselling author Jennifer Crusie
"…a sigh-inducing romance that's virtually irresistible."
~Romantic Times BOOKreviews
"…well worth your time."
~Writers Unlimited, Kimberly Holt
"As always, Ms. Holm earns an A+"
~The Romance Readers Connection